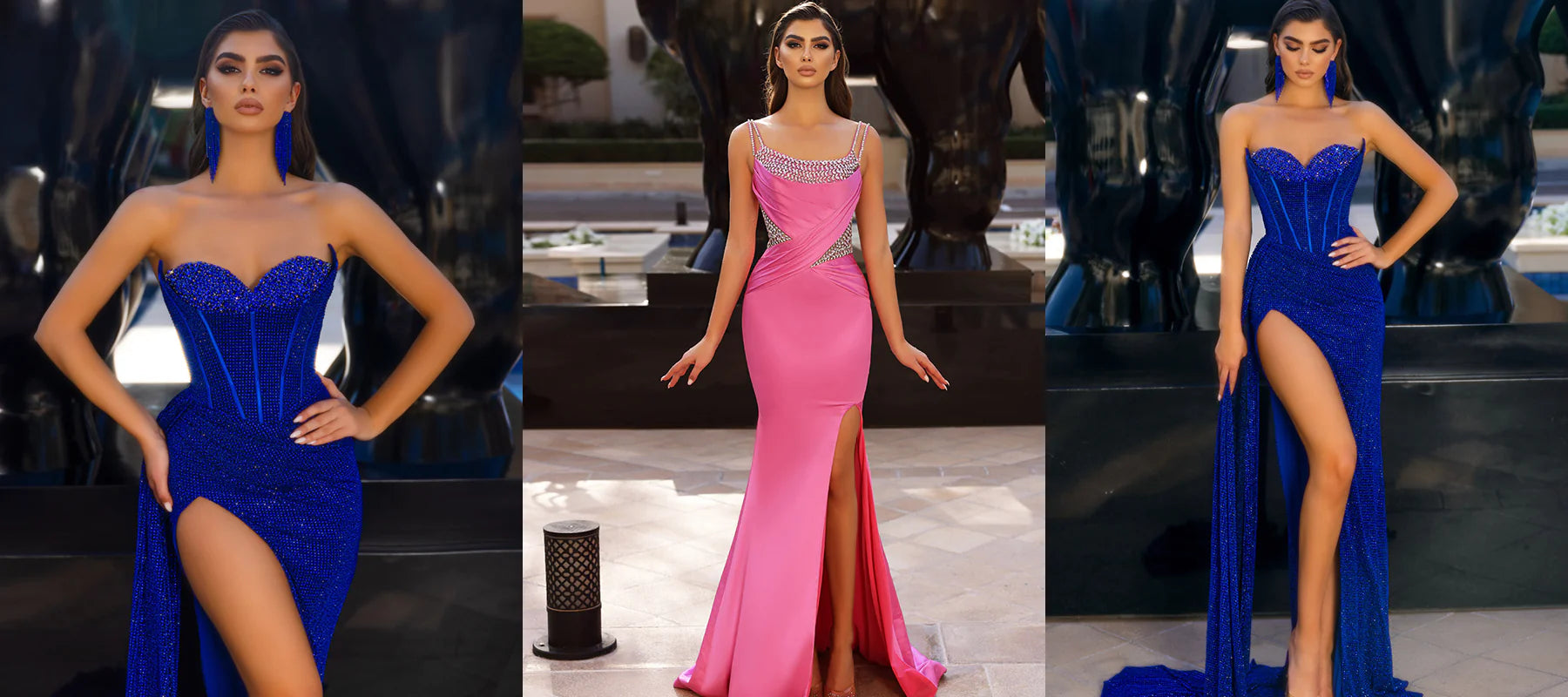 Prom 2024 | Dresses, Gowns and Mini's
Dive into the magical world of prom fashion in 2024, where the resonance of timeless elegance meets the exuberance of vibrant expression. Naked Dresses is proud to curate an exclusive collection for this transformative year, spotlighting game-changing brands: Portia & Scarlett, Lexi Clothing, and Lady Black Tie.
This year is all about uninhibited expression. Portia & Scarlett showcases a captivating colour palette with rainbow bright hues, floral lace, and that unmistakable Barbie energy. The collection dazzles with shades of fuchsia, radiant red, vibrant purple, sunny yellow, classic black, emerald, and navy. These splashes of colour give traditional silhouettes an electric refresh, ensuring every entrance is a memorable one. Among these, the "serelle" and "aria" are standouts, offering distinctive looks that resonate with this year's trends.
The prom landscape has embraced new inspirations. While the "moda baby blue" and "alana", from Portia & Scarlett epitomises contemporary elegance, Lady Black Tie's hot pink gowns radiate a young, dynamic spirit, perfectly encapsulating the mood of 2024.
A touch of sparkle remains timeless, and 2024 is no different. From sequin-loaded designs like the "bella black" to more minimalistic ones such as "ash red", shimmer is in! Portia & Scarlett's signature sequin designs, especially the "amina red" and "mara emerald", remain fan favourites, offering an ethereal glow. Alongside this, unique rhinestone flourishes are adding fresh dimensions of glamour.
Social media's global influence is evident in the diverse styles we see today. Dresses reminiscent of grand Quinceañera celebrations are being embraced as opulent choices for prom, making statements of luxury. Lexi Clothing, on the other hand, is delicately crafting classic silky pieces that exude elegance, appealing across generations and redefining age-appropriate fashion.
The diverse range of silhouettes ensures there's something for everyone. Petite frames might gravitate towards the "fenella blush" by Portia & Scarlett, which offers a stunning blend of grace and style. Those with hourglass figures will find the "gina black" or the "kamala" irresistible, with form-fitting design highlighting their best features. Additionally, the "tammy gown" and "PS23061 cobalt" promise to be showstoppers, ideal for those looking to make a lasting impression.
Prom 2024, as envisioned by Naked Dresses, is a celebration of authenticity, innovation, and the perfect blend of the old and new. It's not just about a dress; it's about making a statement, embracing your identity, and shining brightly in your own unique way.