The Top 10 Prom Dresses Of 2022
When it comes to the "crem dela crem" of Prom couture, Portia and Scarlett are at the top of the most wanted list. Breathtaking gowns, embellished to the highest quality, offering flattering, figure sculpting silhouettes fit for the most stylish of prom queens. If you are not in Portia and Scarlett this prom season then "you can't sit with us". OK, so maybe that's a bit on the mean girl side, but in all seriousness, when searching for something spectacular for Prom season you really can't go wrong in this season's Portia and Scarlett most wanted collection. 
We know Prom dress shopping can often be a daunting task, finding the perfect fit in a sea of glitter and tulle can feel like a monumental feet, which is why we have pulled together our top picks for prom season 2022.
HUGO GOWN 
Hugo by Portia and Scarlett is the LBD of the prom world. The must have staple for any event. Available in an array of stunning colours from canary yellow, to popping pink.
"This stunning gown is made from the finest silk fabric, sure to hug the body in all the right places. Ruching at the waist and a daring mid-thigh split, the Hugo gown features a stunning plunging neckline with a low v-back perfect for any formal occasion." 
We predict deep red is going to be a must have colour for Prom 2022.
ALANA GOWN PS6321
A fusion of Grecian romance meets sexy siren. The
Alana gown
 PS6321 has it all. The perfect mix of elegance and understated sexiness. 
"Turn heads in this best selling evening gown. Featuring a one shoulder and dramatic side drape detail. Fully fitted evening dress with a fishtail skirt, perfect for any special event or prom."
MYA GOWN PS1934
A fun and flirty youthful gown, born to make heads turn. If you are looking for a killer dress to accentuate your curvaceous features then the MYA gown PS1934, was made for you. 
"Stunning best seller with a low v front and low ruched back that stops at the waist. It is a mermaid fitted gown with adjustable straps and a moderate train."
VERONA GOWN PS21208
Turn up the Hollywood glamour in the stunning Verona gown PS21208. Fully embellished from head to toe in gorgeous sequins. A huge amount of workmanship has gone into this gown. If you like to make an entrance then make sure you arrive in Verona. 
"This stunning fully fitted gown features an angular bust and strapless design. It's mermaid fit and gorgeous train along with all over luxury sequins to make it perfect for that special occasion or prom. Best selling Prom & evening gown available in emerald, deep red and cobalt."
MELISANDRE GOWN
A gorgeous versatile flattering dress, which can be styled multiple ways. A more traditional feminine prom dress, the Melisandre gown is a prom queen's dream. 
"Portia and Scarlett Melisandre Gown. Opulent and feminine, you will definitely make a statement at any event in this stunning piece. Available in black, blush, stone and cream. Fabricated from a soft stretch crepe this style features a strapless fitted bodice with boning for a secure fit, a sweetheart neckline and slimline belt. Unlike any gown the bodice features two long luxe tulle pieces that can be artfully wrapped around the body many times over to create a new look every time you wear it. This gown is fully lined with our signature power mesh and finished with a centre back invisible zip"
SAINT GOWN PS21301
Look truly angelic in the most beautiful "champagne" gold sequin gown. Shine light a saint PS21301 when the light hits this one-of-a-kind dress. 
"Portia & Scarlett Saint Gown. This stunning gown features a sweetheart neckline with delicate shoulder straps and a high thigh split to the front. Covered in heavy sequins this gown would be perfect for that special occasion or prom.
GINEVRA GOWN PS22214
The ultimate of flattering silhouettes, the Givevra gown PS22214 accentuates your feminine curves in all the right places. Ginevra is truly a sensational gown for all body shapes. 
"Portia & Scarlett Ginevra Gown. This stunning floor length gown features a gorgeous silk fabric. It has delicate straps with a low back design and a high split to the thigh area. This gorgeous gown would be perfect for prom or that special occasion."
TALYA GOWN PS21287
A backless beauty in a range of vibrant colour ways or classic tones, whatever your colour vibe the Talya gown PS21287 is the perfect canvas. Daring low cut silhouette, beautifully embellished in sparkling sequins. Divine!
"Portia & Scarlett Talya Gown. A remake on our signature best selling style PS1934. This low back sexy prom and evening dress has an flattering fit. The gown is made from stretch sequin with an understated train."
KATERINA GOWN PS21207
Fall in love with Katerina, the bombshell gown, heavily structured in mermaid silhouette, complete in a sea of bedazzling sequins. The Katerina gown PS21207 really is a moment. 
"Portia & Scarlett Katerina Gown. This show stopping gown features a sweetheart bust line with thin straps and a slight V back which stops above the bra line. The gown has slight train is fully fitted and is made from velvet embellished with crystals. Perfect for that special occasion. "
LEILANI GOWN PS21280
The perfect pin-up girl, the Leilani gown PS21280 channels the impeccable glamour of the 1950's, the ultimate prom dress for any show girl. Daring slit and love heart neckline Leilani is sure to send a few hearts racing. 
"This beautiful gown is made from a high stretch material covered in heavy sequins. Featuring two shoulder straps and a flattering V neckline as well as a high thigh split to the front. Perfect for prom or that special occasion. Available in black, cobalt blue and red."
For more stunning prom looks checkout the entire Portia & Scarlett collection.  Enjoy free UK Shipping and hassle free returns, always at Naked Dresses.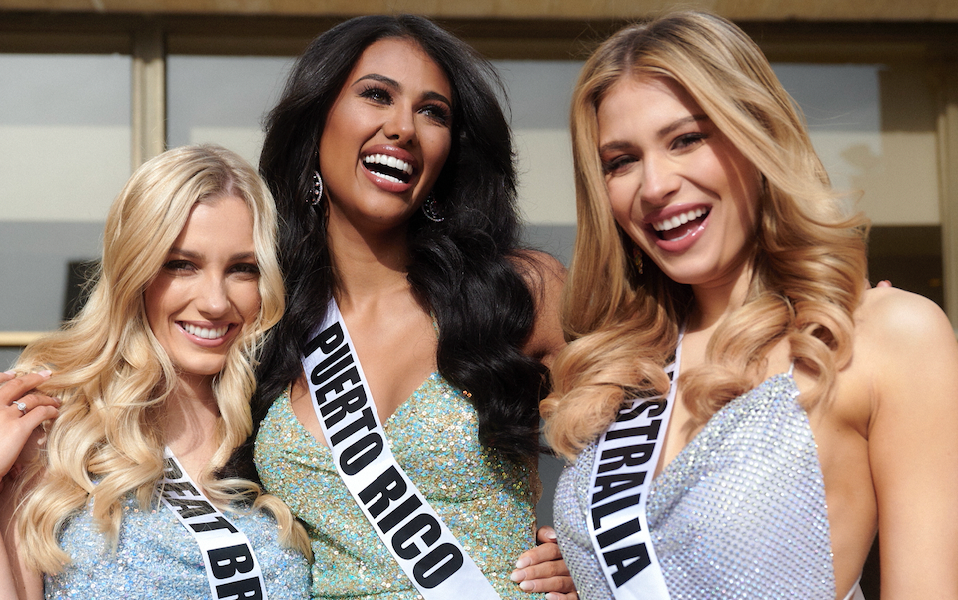 Miss Universe X Portia & Scarlett
The mother of all pageants is back and we are thrilled to announce Portia and Scarlett are the new sponsors of Miss Universe.     The renowned evening dress and couture gown specialist is the perf...
Read more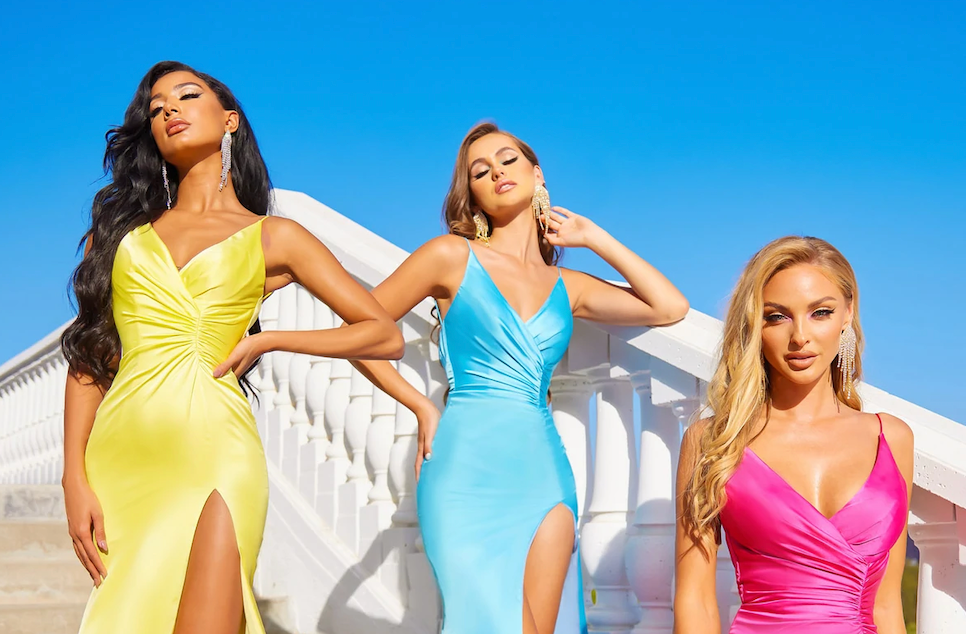 The Hugo gown from Portia & Scarlett is a figure hugging evening gown, designed to flatter and shape. If you are looking for the perfect hourglass silhouette, then Hugo is the perfect gown for ...
Read more