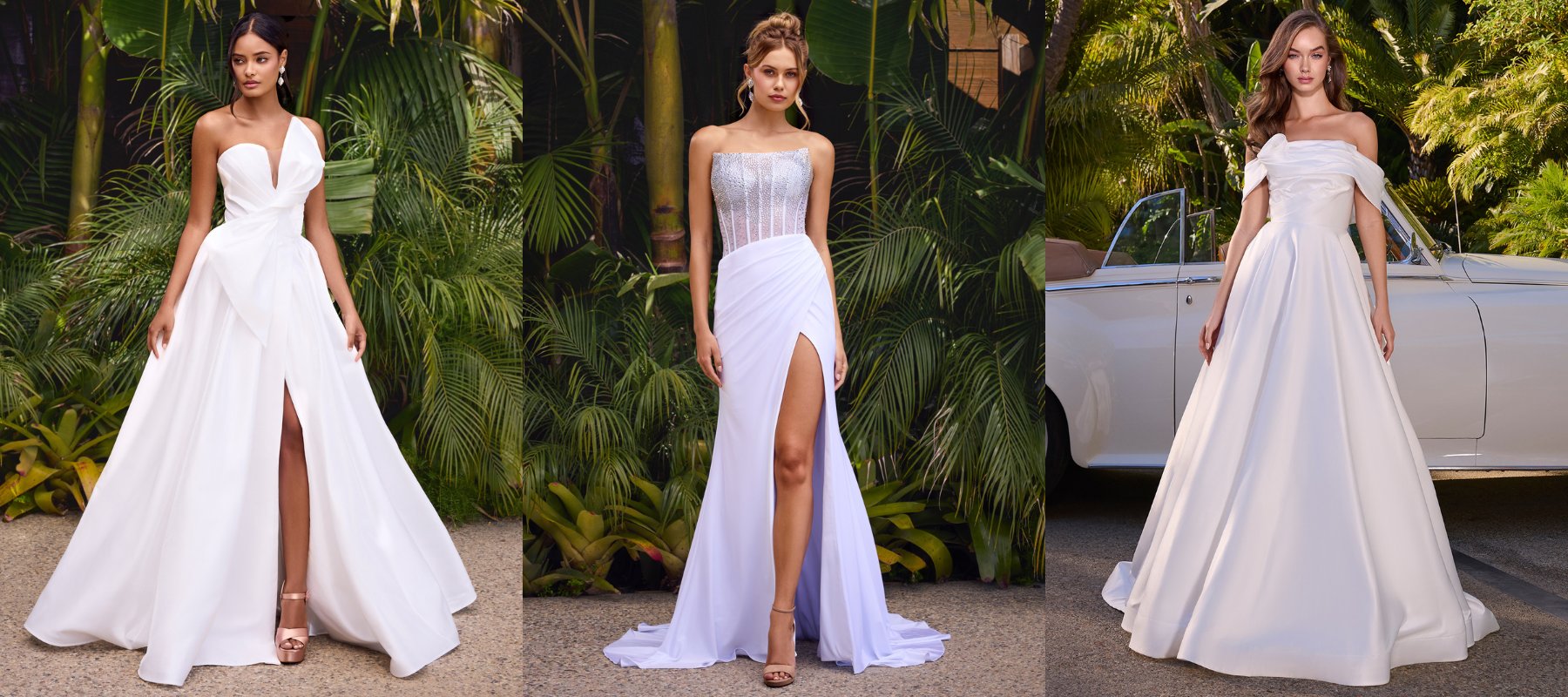 Bridal Dresses
Shop the Naked Dresses collection of modern bridal gowns for wedding receptions and ceremonies, designed exclusively by the Australian designer Portia and Scarlett....Read More
Shop the Naked Dresses collection of modern bridal gowns for wedding receptions and ceremonies, designed exclusively by the Australian designer Portia and Scarlett. This jaw-dropping Bridal & Bridesmaid collection features a stunning range of silhouettes to suit every bride. Fall in love with beautiful embellishment, billowing ball gowns and beachy A-line silk dresses.  
Celebrate the post-ceremony festivities with our stunning range of bridal reception dresses. Whether you opt for the regal charm of a couture gown or the playful elegance of a mini dress, we have meticulously curated designs that will make you the centre of attention. For those seeking an alluring transformation as the sun sets, our glamorous sequin and beaded alternatives offer the perfect choice for a vamped-up evening look. Prepare to steal the spotlight with every step you take.
Portia and Scarlett Bridal Collection
At the heart of our collection lies the work of renowned Australian designers Portia and Scarlett. Their artistry shines through in every stitch, blending global trends with distinctive creativity. Their designs capture the essence of femininity and empower you to make a statement that's uniquely yours.
Unparalleled Convenience for Our Global Brides
Based in the UK, Naked Dresses understands the importance of seamless service. Enjoy the luxury of free shipping within the UK, ensuring your chosen dress arrives at your doorstep with care and efficiency. And for our international brides, we're proud to offer express worldwide shipping, allowing you to bring our elegance to your corner of the world. With our commitment to your satisfaction, easy returns are part of our promise, ensuring your shopping experience is stress-free.
Elevate your special moments with the Portia and Scarlett Bridal / Wedding Reception Dress Collection. Whether you're dancing the night away at your reception or celebrating with your loved ones at a hen party or bridal shower, our range promises to enhance every aspect of your journey. Experience elegance, versatility, and glamour like never before – because your love story deserves nothing less.