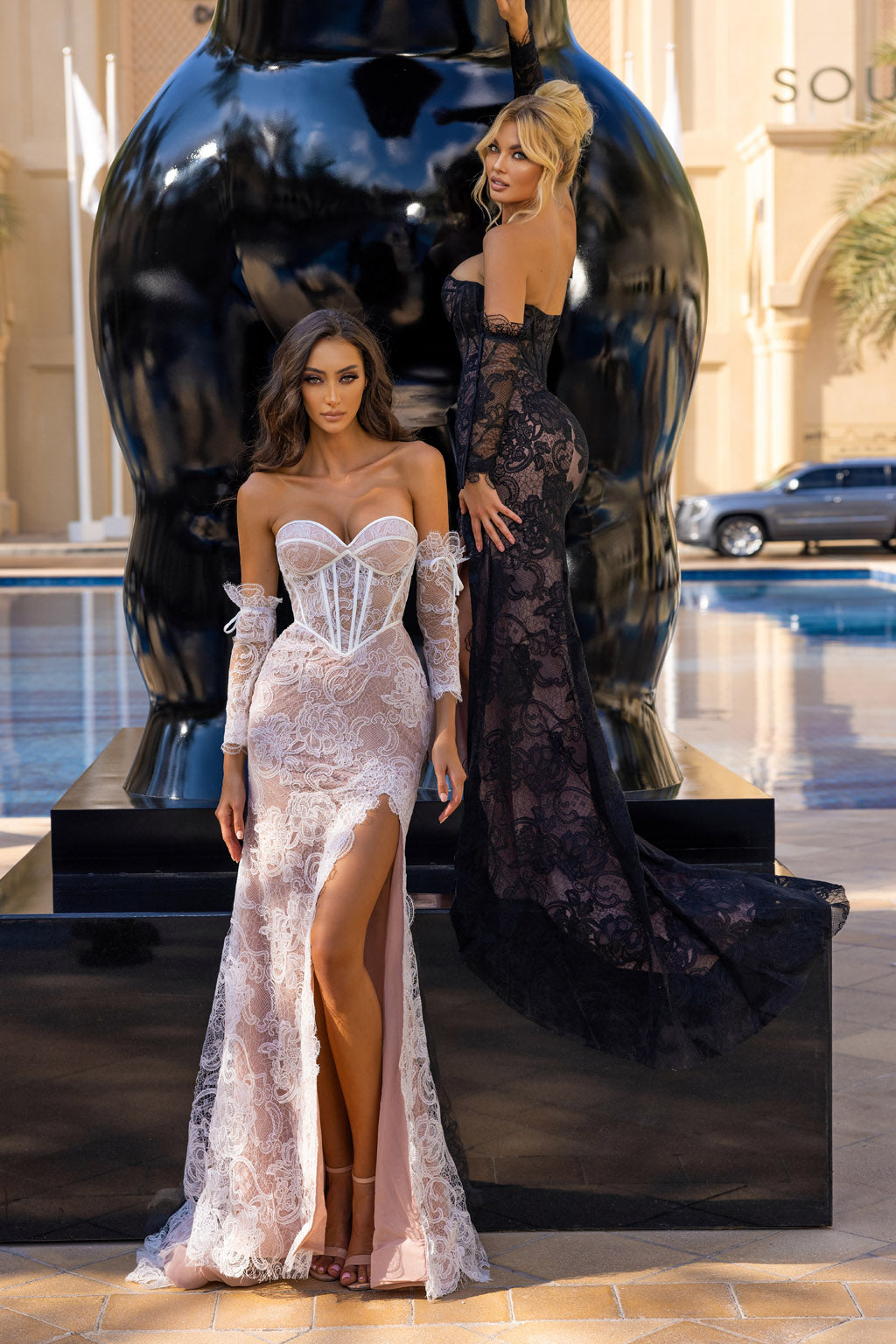 Naked Dresses as seen in OK Magazine!
Today, we're thrilled to share our new feature in OK magazine. 
Being recognised by such a renowned publication is a testament to the impact Naked Dresses has made in the fashion industry.
At Naked Dresses, we've always strived to be the go-to brand for those seeking show-stopping gowns for their special occasions. So, when OK Magazine! approached us, it reaffirmed our commitment to providing the perfect dress for proms, parties, and evening wear.
We've been fortunate enough to capture the hearts of not only fashion-forward individuals but also celebrities and influencers who adore our collection. Being loved and recognised by the industry's elite is a true testament to the quality, elegance, and style that our gowns exude.
OK Magazine! recognised the unique blend of classic, modern, and couture designs that Naked Dresses offers. Our range is carefully curated to cater to a diverse clientele, ensuring that there's a dress to match every individual's taste and personality.
But it's not just about the dresses; it's about making them accessible to everyone. We understand that purchasing a gown can be a significant investment. That's why we offer flexible payment options, allowing our customers to indulge in their dream dress without compromising their financial comfort.
One of the things that sets Naked Dresses apart is our dedication to supporting international designers and labels. We're proud to be one of the first UK companies to introduce Australian brands to the British market. By championing designers from around the world, we bring you a collection that is truly diverse, vibrant, and globally inspired.
So, when OK Magazine! asked us to be featured in their latest article, it was an opportunity to spread our mission further. We want to inspire and empower individuals to embrace their unique style, explore different design aesthetics, and make a statement through fashion.
As you read the article in OK Magazine!, we hope you'll join us in celebrating the love for Naked Dresses. Explore our collection, discover your dream dress, and let us be part of your journey in creating unforgettable memories.
Thank you, OK Magazine!, for recognising the passion and dedication we pour into making Naked Dresses a brand that stands out in the fashion world. We're honoured to be featured and excited to share our story with your readers.
So, keep an eye out for the latest issue of OK Magazine!, where Naked Dresses takes centre stage. We can't wait for you to delve into the world of glamour, elegance, and the magic that comes with finding your perfect dress.
Join us as we explore the enchanting world of Naked Dresses, while also shining a spotlight on the luxurious creations of Portia and Scarlett.
Luxury Evening Gowns by Portia and Scarlet
When it comes to opulent evening wear, Portia and Scarlett never fail to captivate fashion enthusiasts with their breathtaking designs. Their stunning couture and hourglass evening dresses embody elegance and sophistication, perfect for those special occasions that demand an extraordinary ensemble. The brand's collection encompasses a wide range of styles, from graceful prom dresses to intricately crafted couture gowns. With a focus on accentuating the female form, these dresses exude confidence and grace, making every woman feel like a true queen.
Party Dresses and Couture Gowns
Naked Dresses is renowned for curating a diverse selection of dresses that caters to every fashionista's taste. The collection boasts an array of party dresses, ranging from chic mini dresses to glamorous midi dresses. Whether you're attending a cocktail party, a social event, or a night out on the town, Naked Dresses offers a perfect ensemble for every occasion. The carefully selected pieces are a testament to our commitment to providing luxurious and trendy options for the modern woman.
Occasion Wear with a Bold Twist
If you're searching for that show-stopping outfit that will turn heads at your next event, look no further than Naked Dresses. Our cutting-edge designs and attention to detail is what sets us apart, ensuring you'll stand out from the crowd. With a fusion of classic elegance and contemporary flair, Naked Dresses delivers a unique take on occasion wear. From jaw-dropping evening gowns to fashion-forward couture pieces, our collection promises to make a statement and leave a lasting impression.
Celebrities and influencers worldwide
Naked Dresses has garnered a massive following on social media platforms, thanks to our strategic collaborations with celebrities and influencers worldwide. By working closely with renowned figures in the entertainment industry, our brand continuously pushes fashion boundaries and sets new trends. From red carpet appearances to high-profile events, Naked Dresses has become a go-to choice for style-conscious individuals seeking to make a bold fashion statement.
Flexible payment options
At Naked Dresses, we understand that investing in a stunning gown can be a significant decision, both financially and emotionally. That's why we offer flexible payment options to ease the burden. No need to worry about paying the full amount upfront. We believe that everyone deserves to feel their best, and our flexible payment plans ensure that you can find the dress of your dreams without breaking the bank.
International designers and labels
What sets us apart from the rest is our passion for supporting international designers and labels from all corners of the globe. As one of the pioneering companies in the UK to introduce Australian brands to British consumers, we're on a mission to bring you the best from around the world. We believe in celebrating diversity, embracing different design aesthetics, and offering you a wide range of options to choose from. By supporting international designers, we not only bring you unique and exclusive styles but also contribute to the global fashion community.
Naked Dresses have become synonymous with luxurious evening gowns, prom dresses, couture pieces, and party dresses. Thanks to our amazing collaborations with celebrities and influencers we have solidified our position as a leading force in the fashion industry. So, whether you're attending a glamorous event or simply want to embrace your inner fashionista, Naked Dresses offers a stunning array of options that will leave you feeling confident, elegant, and utterly radiant. Remember, fashion is an expression of your unique personality, and with Naked Dresses, you can be sure to turn heads wherever you go!